You'd be hard pressed to find a friendly, down-to-earth cafe such as M Square Coffee in the heart of the Financial District in the Toronto PATH. Especially a place tucked under the Sheraton Centre, where you feel like you're walking circles through Middle Earth just to find it. But sometimes the best places are the ones worth looking for.
M Square stands for Mario and Marybelle, the power couple behind the brand and who are extremely knowledgeable and passionate about coffee. It was with Justin's help and loyal support as a consultant that the cafe was brought to life in September of 2014. I had the pleasure of getting to know Justin and fellow baristas Garrett and Tim who are equally as charming, if not more.
There are several things that make them unique. First is the two Kees van der Westen "Spirit" espresso machines, the only ones found in Ontario.
Second is their daily brews change every day. They pride themselves on sourcing beans from Phil & Sebastian. On the day I visited, I tried a clever drip sourced in Kenya. It was light and acidic, yet fruity like pineapple and mango. It's got a smooth aftertaste that's pleasantly sweet. I normally don't take my coffee black due to its bitterness, but the clever drip is so aromatic it's perfectly suited to drink straight on its own.
Their attention to detail is remarkable, from sourcing local beans to roasting to the making of the brew. For espresso based beverages such as lattes and cortados, they use a scale to weigh the beans before the brewing process, so you're guaranteed to get a perfect cup every time.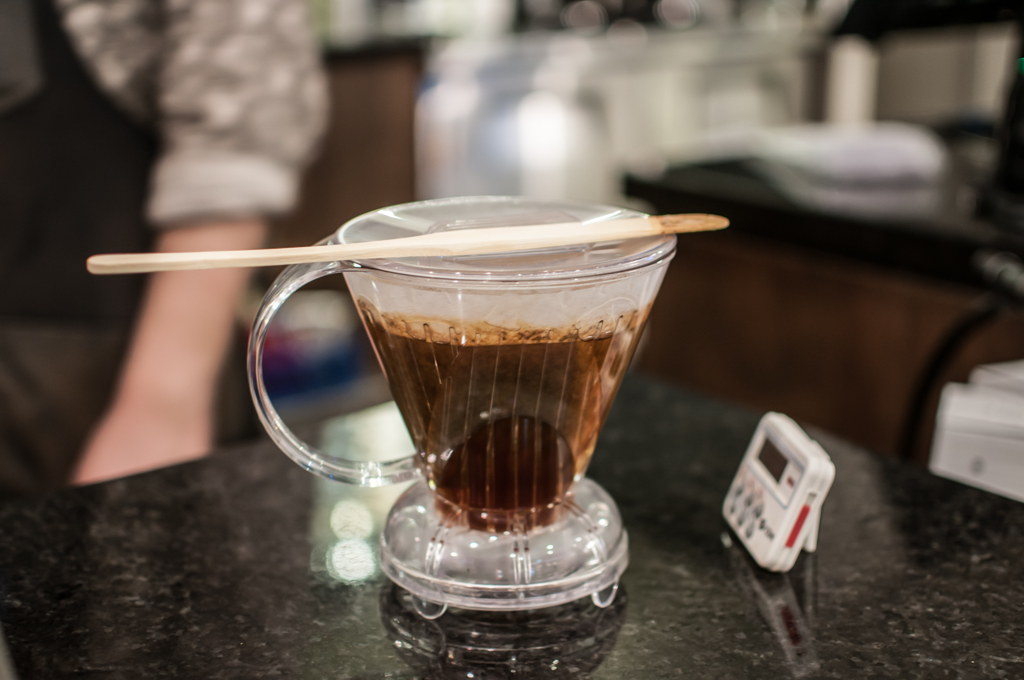 For the clever drip, the process takes 4 minutes to brew, where they start off by pouring hot water into a clever dripper. After letting it sit for 2 minutes, the brew is stirred to allow it to "bloom". Afterwards you wait another 2 minutes to let it seep through from the clever dripper into a beaker.
And finally, they have their Chai, which is raw and concentrated just like Indian Chai. They also carry other artisanal goodies such as water buffalo milk and artisan yogurt used in house made parfaits.
The abundance of seating options, free WiFi, and fantastic brews are enough to frequent this place. I absolutely love the industrial-chic space but more importantly, I love their staff for they are so friendly and welcoming! Not to mention they really know their brews down to a science.
M Square Coffee hours are weekdays from 7am to 6pm and weekends from 8am to 2pm. If I had my office set in the Financial District, I'd come here as often as my wallet can afford to.